Given by Diana of "PrimativeNature"
November 3, 1999
THANK YOU DIANA!!!
Given by Carolyn ~ of "Carolyn's Place"
July 18, 1999
THANK YOU CAROLYN!!!
Given by Rhonda Wilson of
"Rhonda's Domain"
June 22, 1999
THANKS, RHONDA!!!
Given by Annie & Mike of
"Mike & Annie's Treasures!
June 15, 1999
THANKS ANNIE & MIKE!
The very FIRST award my site received
was from NaNaMar!
THANKS MARLENE!
My second award was
received from Brian aka MetalheadTV!
Sorry, but Brian is no longer MetalheadTV ... so when his old site went ... so did the award I received from him! Will have to get a new one from him as soon as I have time.
Anyway ... THANKS BRIAN!
My third award was received from Libby!
THANKS LIBBY!
My fourth award was received from Goldie Meow!
THANKS GOLDIE MEOW
aka MISSUS MEOW!!!
Award Received 11/16/98 from Bobbie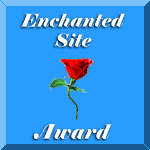 THANKS BOBBIE!!!
Received 5/10/99
THANKS, JULES!
Click
to go to next page ...
Antique & Unique Shoppe
... or ...